Ryan Ding, Huawei Executive Director and President of Carrier Business Group, shared his views and vision for 5G with the industry at the "5G is Now" Summit during the Mobile World Congress (MWC) 2018.
During his remarks, Ding noted: "Looking back, we can see how technology has driven social change: 2G kicked off an era of global communications; 3G and 4G brought us mobile internet; and 5G marks the start of a new, intelligent world, with all things sensing, all things connected, and all things intelligent."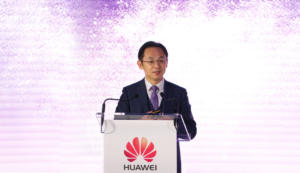 Ten years ago, when 4G was still just a pipe dream, it was hardly imaginable that we would be buying plane tickets, booking hotels, ordering taxis, and paying bills… all at the touch of a phone screen. Smartphones are our portals to the digital world. And in the coming 5G world, networks will connect things, as well as people. It will be a world where all things are sensing, all things are connected, and all things are intelligent. We are going to see the emergence of many things that we cannot imagine today. On the roads, self-driving cars will communicate through the 5G network, and traffic jams, accidents, and parking problems will become a thing of the past. Groceries and other purchases will be carried to us through the air by drone, arriving in our hands within minutes. The blind will perceive the world using assistive technologies. 5G will be the portal to the digital world for everything and every person.